Don't miss conversations that matter
People can be talking about your brand anywhere online. Our search engine monitors hundreds of millions of sources. You'll have access to conversations from every corner of the web, from blog posts to online news websites, forums, review sites, social networks.
Understand the sentiment around your brand
Monitoring your brand will help you gather invaluable feedback, understand your customers likes and dislikes and see where the conversations are happening. You'll also be able to stay ahead of negative buzz with our real time alerts.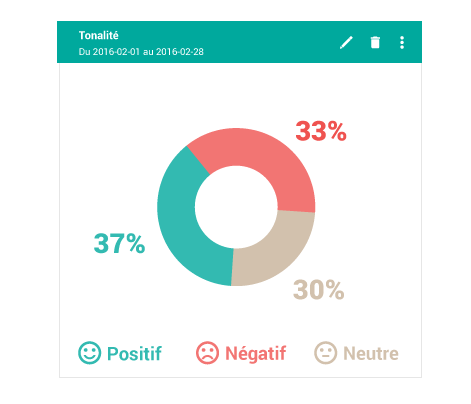 Go beyond monitoring your brand
Monitor your competitors
Set up alerts on your competitors to analyze their online activity and see who's talking about them. Benchmark against them. Get insights into what works or what doesn't. Learn from their successes or failures.
Identify influencers
Influencers are a great way to get your name out to your targeted audience. Alerti makes it easy to find influencers already talking about you or identify new ones you may want to reach out to.
Identify new prospects
Identify potential customers by tracking specific keywords or phrases. Easily get in touch with them from your alerti account and keep track of the conversations.
Monitor Your industry
Easily keep track of what's going on in your industry by setting up alerts on specific keywords. It can also help drive future product features or identify new potential competitors.
Find the exact conversations you want
Are you looking for mentions of your brand or a combination of keywords and phrases in a specific language? Social media can be overwhelming. You need to make sure you find relevant articles only and not waste time with information you're not interested in.
Alerti lets you easily make complex queries and boolean searches in over 40 languages.
Make sense of the data
Our analytics dashboards let you analyse trends from online conversations. Easily filter positive and negative mentions. Understand which topics are most talked about in your alerts. Identify your influencers, ambassadors, detractors and know which posts mentioning you have been retweeted or shared the most.
Connect your social accounts to your alerti accounts and measure your performance and impact on social media. Identify your most engaging content and benchmark against your competitors.
learn more
Work as a team
Share your alerts and collaborate with your whole team. Assign tasks to your co-workers. See the progress made. Know who replied to what and stay in the loop.
The Alerti difference
Monitor all types or sources : news, blogs, forums, social networks, images, videos
Get detailed analytics to understand your online presence
Engage and respond on social networks directly from your alerti account
Work as a team and follow the progress made
Access your data from everywhere with our mobile apps
Benefit from an affordable and flexible pricing